A reliable approach to talent management
It's more important than ever to recruit the right people. With a shift in the modern working environment, correctly matching employee skills to job requirements and organizational culture has become crucial to long-term success. We know it as 'competency management'.
Competency management is a structured approach used to link a person's competencies to the specification of a certain role within your company. The comparison of 'target' and 'actual' profiles can be used to plan for further training, personnel development and succession planning.
gradar's competency module provides an instant connection between job requirements and behavioral examples from TMA's global competency library.
The TMA competency model
The TMA software suite offers a comprehensive solution for job profiling, talent management, feedback and assessment.
It's not about bending someone to the needs of a job. It's about finding the job profile that gives a person the best chance of delivering first-class results - and enjoying themselves as they do it.
The process looks to find the right fit, aligning the needs of the worker with your needs as an organization. There's value on both sides.
The TMA model is made up of 53 competencies, subdivided into four levels:
General
Operational
Tactical
Strategical
These subdivisions ensure a real-life fit of behavioral examples to the different levels of jobs within a job family or career ladder. Additional information about development potential, interview advice and coaching pathways take the process a step further.
TMA and gradar
We automatically translate your job evaluation results into up to seven TMA competencies as part of the grading process. The selection is based on career path, job grade and global job family, with reports easily filtered and exported as an editable Word document.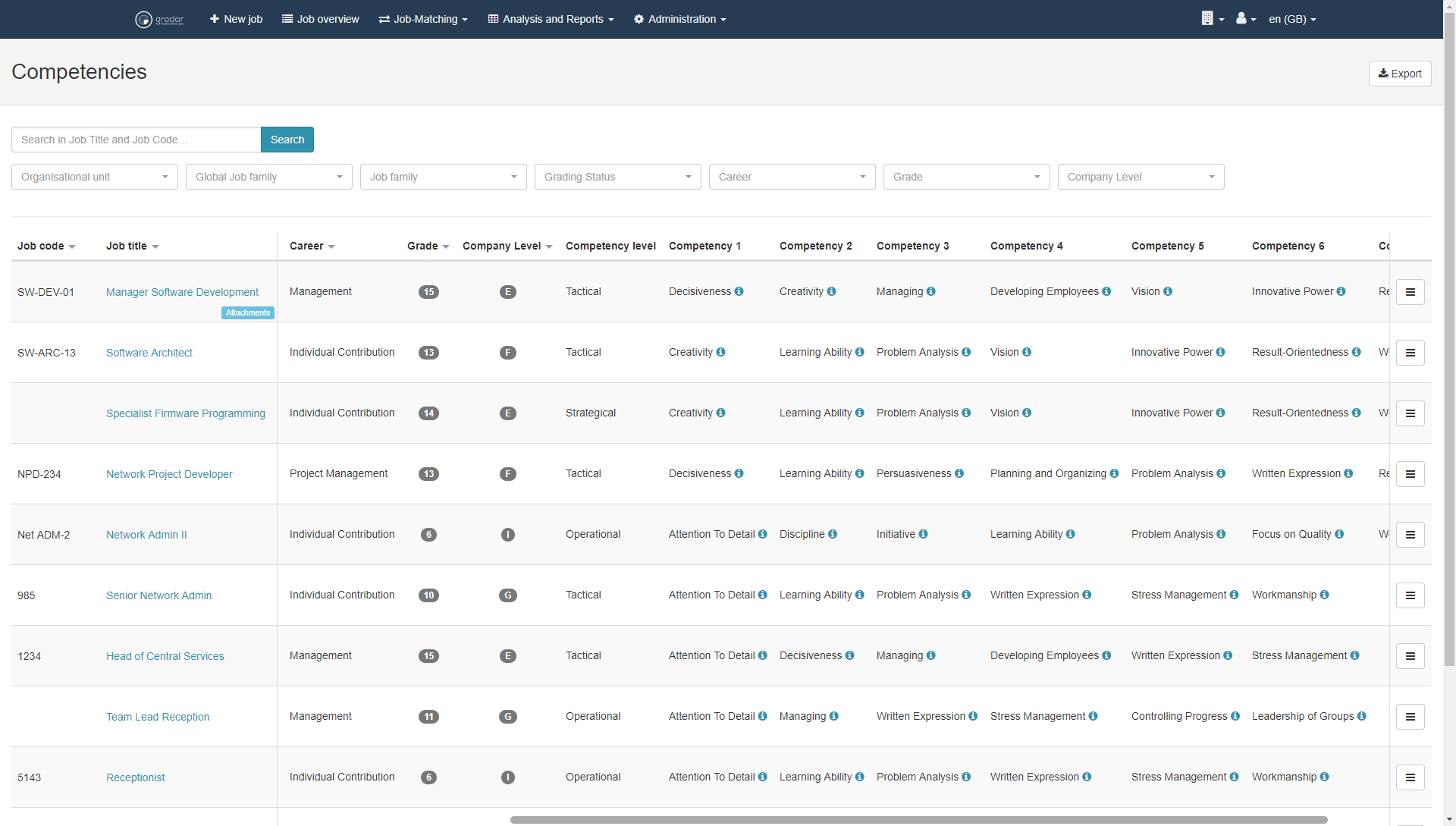 We used an evidence-based approach to select general competencies for every career path and range of grades. These are then combined with specific competencies for each global job family, career path and range of grades.
Job Evaluation in three
Career Paths
Individual Contribution

Project Management

Management
Job grading from grade 1 to 25
Individual Contribution grades 1 - 19

Project Management grades 10 - 21

Management grades 11 - 25
choice of currently
24 job families

108 subfamilies
Best predictors for on-the-job performance are intelligence and conscientiousness, so we chose the closely-related competencies of "learning ability", "problem analysis" and "workmanship" as default within the Individual Contributor career path.
For the management career path we chose different competencies for the operational, tactical and strategic range that account for the specific nature of the associated management tasks.
Our selection of project management competencies was inspired by TMA's result area of "planning and organizing".
Individual Contribution
Learning Ability
Problem Analysis
Workmanship
Learning Ability
Problem Analysis
Workmanship
Learning Ability
Problem Analysis
Workmanship
Strategical
(Grade 14-19)
Learning Ability
Problem Analysis
Vision
Management
Operational
(Grade 11-12)
Controlling Progress
Leadership of Groups
Managing
Decisiveness
Developing Employees
Managing
Strategical
(Grade 16-25)
Business Orientation
Managing
Networking
Vision
Project Management
Operational
(Grade 10-12)
Attention To Detail
Learning Ability
Planning and Organizing
Problem Analysis
Result-Orientedness
Workmanship
Written Expression
Decisiveness
Learning Ability
Persuasiveness
Planning and Organizing
Problem Analysis
Result-Orientedness
Written Expression
Strategical
(Grade 17-21)
Decisiveness
Organization Sensitivity
Persuasiveness
Planning and Organizing
Problem Analysis
Result-Orientedness
Verbal Expression
As with our job evaluation system, we want to provide a bespoke service to our clients. Matching competencies to jobs and people is a difficult process with a number of variables specific to each business. There isn't a 'one size fits all' approach, so we adapt to the level of customization you need.
Our system allows you to:
Manually overwrite job-specific competency matches
Amend competency definitions or behavioral examples
Re-map the TMA catalogue to suit your company
Integrate a custom competency model
Get in touch with our support team to learn more about how gradar can help your business.
Let's talk
Job evaluation and competency management done right
gradar is one of the few systems in the market that offers a translation of job evaluation results into out-of-the-box, job-specific competencies - and at a fraction of the cost of legacy systems. You don't need to pay vast sums of money for the development of a custom competency model, just select competencies for your jobs or use the default selection. If you want to go further, build a new model and get your tailor-made system up and running within days rather than months.
would you like to know more?
register now for our free evaluation version and try gradar for free!