What makes us different?
gradar is a job evaluation system designed with our clients in mind. We're committed to providing a standardised service with a number of user-inspired features which your business can operate independently.
By partnering with independent compensation consultants, we implement a non-proprietary approach that focuses chiefly on a job's requirements.
We evaluate jobs across 25 grades in three different career paths; individual contributor, management roles and project management roles.
Un-skilled / Semi-skilled Labour
The Grade is a result of the project's dimensions: Timeframe, budget, leadership span, complexity, ...
Supervisory
Management /
Team Leadership
25
24
23
22
21
20
19
18
17
16
15
14
13
12
11
10
09
08
07
06
05
04
03
02
01
People Management
Management positions place their emphasis on disciplinary management of employees and organizational units, as well as budget responsibility. Their achievements are typically of an indirect nature through leadership, promotion, support and motivation, along with the functional use of the resources available to achieve their goals.
Project Management
The core objective of project managers is delivery through coordination, personnel distribution, resource allocation and budget control in the context of time-limited, one-off projects.
Individual Contribution
Position holders contribute mainly through the application and development of specific skills. Employees add value either individually or as members of an organizational unit. The responsibility may extend from the execution of individual tasks of an unskilled worker to the technical management of a discipline as an expert. Disciplinary leadership does not belong to the core tasks.
job evaluation with gradar.
gradar provides consistent and objective results on all job levels. From unskilled workers to strategic experts, from project to people managers, it follows a strict requirements-based approach. One of gradar's key characteristics is this qualitative approach to job evaluation. By providing clear factor definitions and distinctive verbal level descriptions, the evaluation process is easily understandable for everybody involved and provides a high level of objectivity.
The well-balanced choice of input, throughput and output-factors makes gradar the ideal tool to evaluate positions in organisations of all sizes and in all industry sectors.
---
Professional Knowledge and Experience
Thinking and Cognitive Requirements / Problem Solving
---
Project Responsibility and Leadership Span
Leadership Span and Guided Group of Employees
---
---
Processes and Complexity
Functional Responsibility
Scope of Decisions
Project Size and Project Budget
Processes and Complexity
Organizational Responsibility
Scope of Decisions
---
And our three-step process has never been easier.
Set up the job in the gradar system
Evaluate the job based on its requirements
Compare the results across job families and business units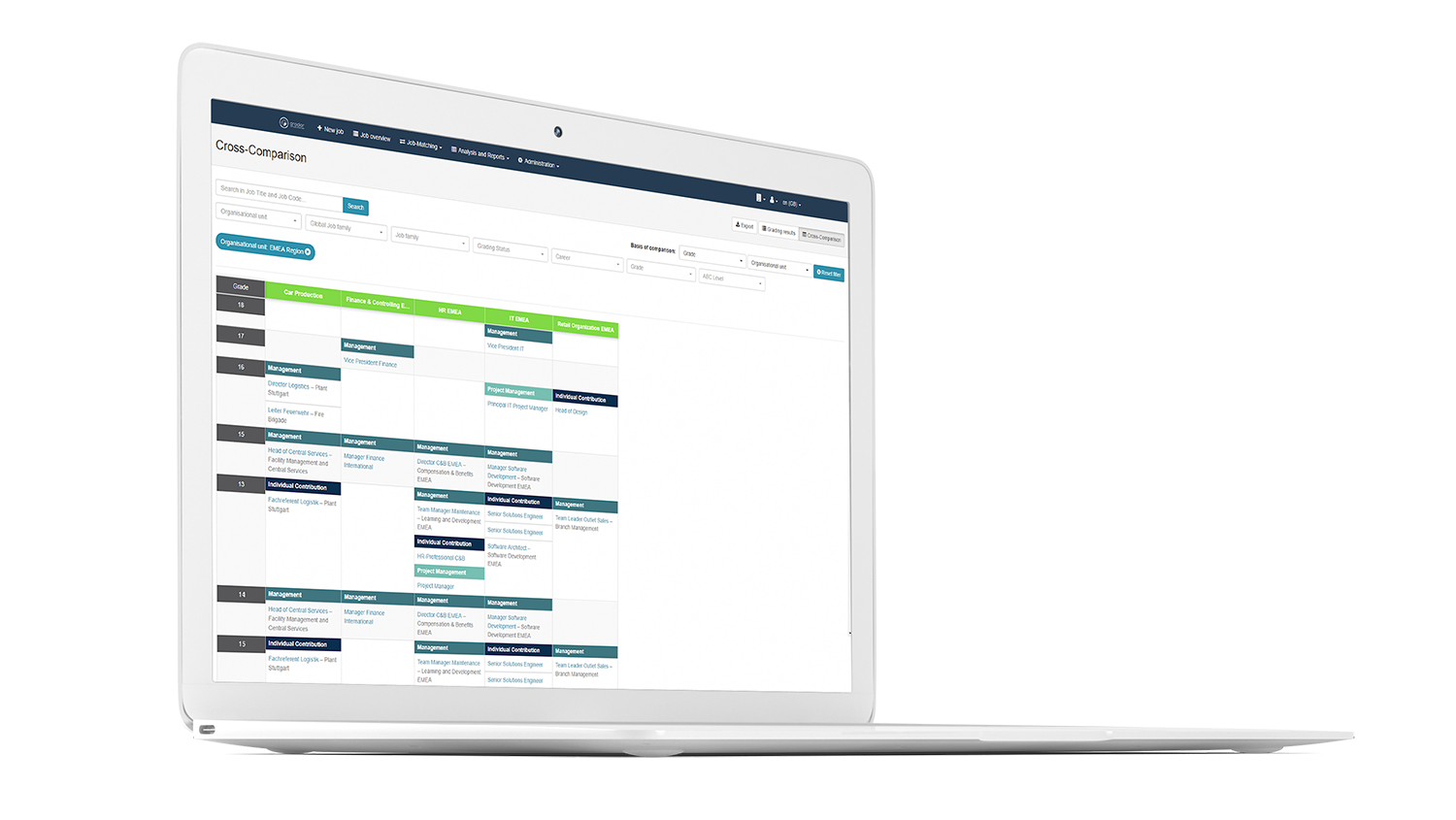 Our system is fully customisable. From job families and organisational structures to benchmark survey translation matrices and competency models, you can configure the system to your requirements.
We're suitable for every business, from SMEs to multi-national companies. We don't assess turnover. We don't assess scope. We focus solely on comparable job evaluation results. It's an approach that makes us the ideal solution for organisations in fast-changing work environments.
get started for free
Ease of use
Intuitive user interface
Clean and neat responsive design
Fast and easy setup
Secure and straightforward access management
Compatibility
132 global job families that enable automated job matching to major compensation surveys and job-specific competencies
Strong correlation with other job evaluation and grading systems
Results
Real-time cross comparison
One-click .xlsx, .csv & .docx exports
Up to 6 user-defined variables to cluster jobs
Comprehensive filter options
pricing & feature overview
gradar is for every business.
We're one of the most affordable job evaluation systems on the market.
get started for free
Basic Edition
All the fundamentals with minimal setup. Available after seven days trial of Evaluation Edition. Advanced features are not accessible.
0£ /yr
Starter Plus Edition
The perfect solution for job evaluation and competency management in Small and medium-sized enterprises (SMEs).
1,800£ / yr
Professional Plus Edition
Everything needed to build and maintain a professional job architecture in a larger company.
3,600£ /yr
Enterprise Edition
Packed with enhanced features, such as a real-time cross comparison, custom job families, custom organizational units and enterprise-grade access management.
5,400£ /yr
would you like to know more?
register now for our free evaluation version and try gradar for free!